Please note that this post may contain affiliate links and any sales made through such links will reward me a small commission – at no extra cost for you..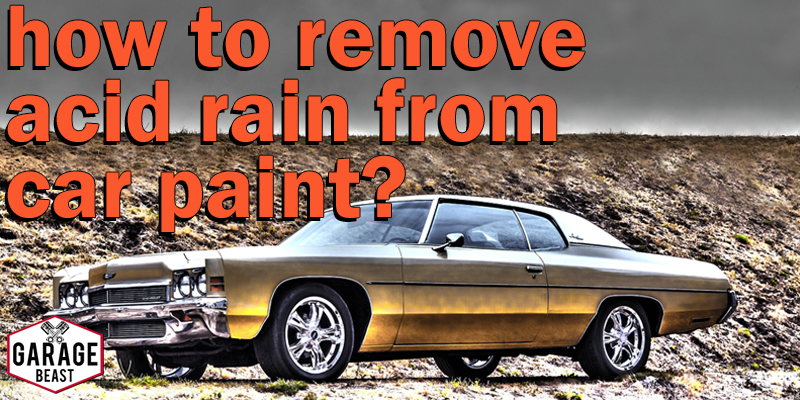 Have you seen the spots forming on your car after rain? staying there after the some days even if you wash it? Chances are that may be due to acidic rain. Today we will let you know how to remove acid rain from car paint.
Why acid rain is caused?
Acidic rain form when fossil fuel burns which contains Sulfur dioxide and nitrogen oxides which mixes in the environment and becomes nitric and sulfuric acid. So now you the science behind it we will now focus on how to remove acid rain from car paint.

There are 2 types of solutions and we will discuss both solutions here, first is the DIY solution and then the commercial options available on the market.
DIY option for acidic rain removal
Vinegar
Vinegar is the most found option to be used to remove acid rain from car paint, but it is not the most scientific one, You can give it a try if it works for you then you may not have to opt for the expensive options.
Vinegar is said to have properties to remove impurities from your car and can even remove the wax you applied on your car.
Take 1 cup of white vinegar and add it to quarter of water.
Spray it on your car where the acidic spots are.
Wipe it with a clean cloth and you may see acidic spots being removed.
Try to do this if it happened within a day or two other wise spots may go deep down into paint.
Now when you have tried this option and still it doesn't work for you, now you may move to the commercial options.
Commercial options for acidic rain removal
Clay bar
There are special automotive clays that car detailer use to prep your car before detailing it can not only remove those spots but also remove the dirt stuck deep in your paint which may not even be seen by the naked eye.
This can also be helpful to remove the acidic rain spots as well make the paint surface smoother.
You can buy one of those clays from the market or order it online and see how to use it, or you can take your car to a good detailer and they do the required procedure but I guess we should try it ourselves first.
You can use the clay bar with a bottle of distilled water and spray it before using the clay
Applying it in circular manner or up and down movement and you are good to go with this procedure.
When you feel the surface is dry spray the water on it and repeat
After sometime you will see these rain spots disappear from the paint
To double check it wipe the surface with a clean cloth and check again
Once you have done all the above and the rain spots are removed try to seal the surface with good wax which will protect the paint for future too.
We hope that this works for you but if it doesn't or after reading you don't feel satisfied you can move to the next option.
Rubbing or Polishing
The second option is to use Dual action polishing machine with a rubbing compound, we hope that the spots are not deep down in your paint and less polishing is required to remove these marks. If the marks on the first layer of paint it will be easier not much but relatively easier to remove these marks.
If you have a good Dual action polishing machine you know how to operate it you are good to go or you can rub it by hand with a polishing compound.
Polishing from the polisher machine or by hand is an Art doing it in a wrong way would damage your car paint more. you should really learn first how to remove acid rain from car paint with the help of a polisher machine.
If you are not aware of it you are one YouTube video away to learn it and if you don't feel confident enough than you should surely seek a professionals help.
Reaching out to a professional detailer would be an expensive option but will be worth it.
When going by hand you can use a good polishing compound and good microfiber cloth.
Use the cloth in circular manner as the polisher rotates and imitate that. Don't over do and under do keep a balance as when we are doing it by the polisher or hand it generates heat which in result can damage paint layers.
We hope that this solution helps you really well.
Watermarks remover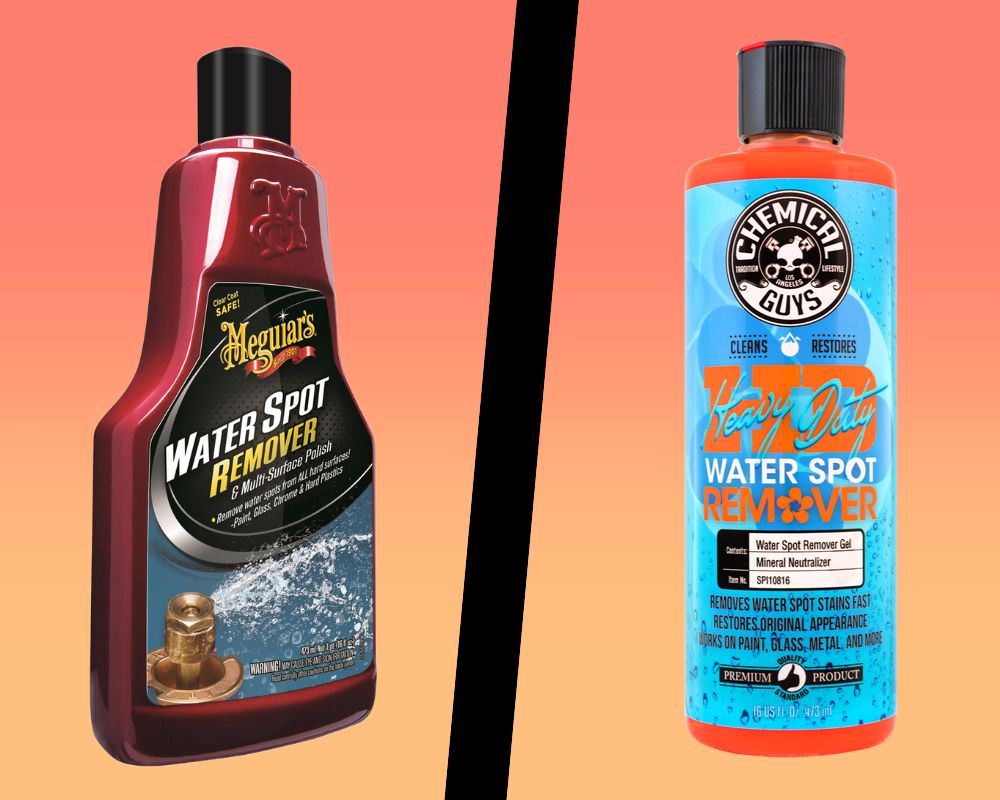 The next solution we can use to remove acid rain from car paint is to use acid removers for cars.
There are certain products on the market which you can use to remove acidic rain spots, well technically they are made to remove rain spots but will likely work for acidic rain too.
These are basically rubbing compound made to remove watermarks from the car. When using these try to wear a pair of gloves and then work on your car.
Before using this make sure:
The surface area is clean
Wipe it off with a clean cloth
You can also give it a quick wash on the area, try to use a PH balanced car wash soap.
Avoid getting the rain spot remover on plastic or chromed parts better use chrome polish, read the product details first.
Below are two of the branded rain spot removers on the market you can get it and get your job done.
Meguiar's A3714 Water Spot Remover
This is a Rain water spot remover from Meguiar's which is a widely recognized brand for car care accessories.
This will not only remove the car spots from the car but will also enhance the shine of the car.
It is perfectly safe to use on hard plastic, chrome parts or glass surface too. It can be used to be applied by hand or double action polisher.
Apply this on a cool surface area and apply this in a shade
This water spot remover will remove your rain spots without damaging the paint of your car.
Chemical Guys SPI10816 Heavy Duty Water Spot Remover
This is another Rain water spot remover from Chemical guys is of 16 fl oz , which is another good brand of car care items.
It will easily remove water stains, mineral deposits from water, hard water spots, or mild acid spots.
This solution will perfectly work on Paint, glass, Matt Surface or metal. This solution is also helpful if you are prepping your car for detailing as it will remove all the stains from the car paint work and prep it for detailing.
What to when you have successfully removed acid rain from car paint?
Now when you have successfully done it, the next step is to wax and seal the surface you have cleared so it will make your paint safer for the next 2 to 3 rains.
Once it rains the next time try to rinse of our car with Tap water and dry it with a clean dry cloth so that stains wont appear again.
I hope this article really helped you to know how to remove acid rain from car paint.