Please note that this post may contain affiliate links and any sales made through such links will reward me a small commission – at no extra cost for you..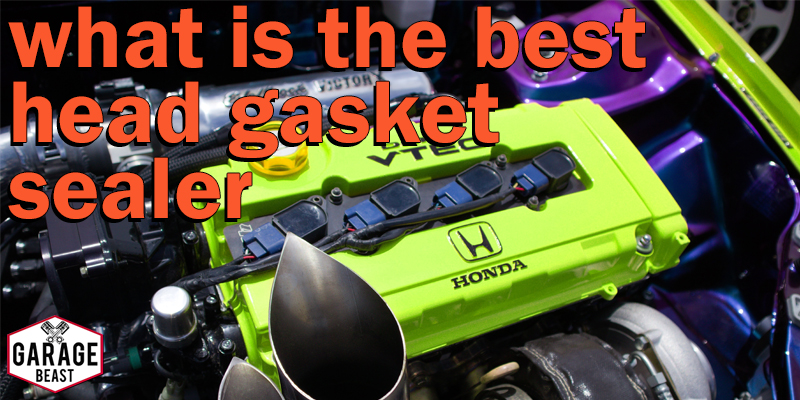 Do you have a car with a faulty head gasket? do you want a quick temporary solution, so here it is if you want to know What is the best head gasket sealer?
Head gaskets are tough mechanical sealants or packing that is used between engine blocks and cylinder heads in machines to avoid fluid or gases leakages when under pressure.
They are cheap, but upgrading them may be very costly. When your car's head seal fails, your mechanic may find it difficult to repair the leak.
Discarding it, on the other hand, can cause more damage to your engine, resulting in further costs.
A good gasket sealer, on the other hand, can get the job done quickly and with minimal downtime until the faulty gasket can be replaced.
A head gasket replacement is one of the most costly automobile repairs. A cheaper alternative is a good idea, particularly if the automobile does not have a blown head gasket.
As a result, head gasket sealers have become a popular choice because they are less costly and almost cure the problem.
The sealant is a synthetic liquid that flows through the engine, plugging leaks on the intake manifold gasket and keeping your automobile in great shape for the next several months.
As a result, selecting the best head gasket sealer is important for preventing engine leaks.
While there are many products available, not all of them produce the greatest outcomes.
BlueDevil Head Gasket Sealer
If you're looking for a long-term, professional-grade remedy to leaks, BlueDevil's Head Gasket Sealer is a good option. It is compatible with both gasoline and diesel engines.
When it comes to internal concerns, it gets the job done. Excluding the radiator core, these refer not just to the head gaskets but also to the heat exchanger, freeze plugs, and other coolant-related elements.

This product can help with coolant leak restoration no matter however many cylinders your vehicle has or what substance your head gasket is composed of.
It can assist in the repair of any warps or fissures. It binds to a variety of materials, including alloys, aluminum, plastic, cast iron, and other metals.
This sealant is suitable for both petrol and diesel engines, regardless of the number of cylinders.
It's one of the most cost-effective options to getting your engine parts repaired by professionals. It's reasonably priced and safe to use.
It can also protect the head gasket on your automobile from leaking for a long period.
Steel Seal Blown Head Gasket Fix Repair Sealer
For a used car, an old truck, or a vehicle with a larger engine, Steel Seal head gasket sealer is the best option.
It has a high price tag, and for good reason.
First, it gives a remedy for blown head gasket difficulties including white smoke, watery oils, and exterior leaks.
Secondly, Steel Seal head gasket sealant is efficient on older vehicles with just one use.
The product is free of particulates that might cause engine blockages or tube buildup, resulting in even more engine issues.
However, before putting in the sealer, drivers must cleanse the system. It might be inconvenient for those who need a rapid gasket replacement.
Permatex 80062 Gasket Sealant
This is a versatile, quick-drying sealant that can operate at temperatures ranging from -65 degrees Fahrenheit to 500 degrees F. It is not a quantitative product; the aqueous solution is a mixture of elastomers and resin.
The 'High Tack' silicone-made sticky adheres to a sticky, non-slippery, and non-brittle shape when sprayed to the sealing surface.
Gasoline, gas, kerosene, oil, axle lube, antifreeze, and other similar chemicals do not penetrate the dry liquid well.

Permatex High Tack is a transparent red vicious solution that may be used on composite or rubber, paper gaskets, electric terminals and wires, carburetors, manifold gaskets, corks, hose connectors, and valve covers.
For spark plugs, electricity terminals, and wire, it can provide dependable water resistance.
K-Seal Ultimate Permanent Head Gasket Repair
With the K-Seal Ultimate Permanent Head Gasket Fix, you can permanently seal a leak or repair a fracture.
This pour-and-go solution ensures that the damaged area is permanently repaired. Consider this: you'll never have to worry about that portion producing issue again.
This is something that your automobile, old or new, may profit from. It not only provides rapid results, but it also provides a secure sealing mechanism.
This one is extremely effective and efficient, and it gives you good value for the money.
This head gaskets sealer is not only effective but also safe to use. It can be used in conjunction with coolant or radiator.
It also does not necessitate draining the cooling system of its contents. That's one less issue you have to be concerned about.
Just make sure to give the bottle a good shake before using it. This K-Seal option was thoroughly evaluated utilizing Brighton University's technology.
It also passed the ASTM D3147 test, which examines stop-leak chemicals.
Use two bottles instead if you have a large car. This K-Seal product is the runner-up in terms of cost effectiveness as a long-term stop-leak solution to the Steel Seal version.
This product has a lot to provide people looking for a long-term fix for gasket leakage.
It works with various types of vehicles, including automobiles, SUVs, light trucks, and huge trucks, old and modern.
Gasgacinch Gasket Sealer and Belt Dressing
This gasket sealer and belt dressing is available in eight-ounce and four-ounce cans, with an image of a young woman on the front. It's adaptable and simplifies the assembly and disassembly of the engine and gearbox.
Excess Gasgacinch may be easily rubbed away without the need of any chemicals. Steel, titanium, aluminum, lead, rubber, magnesium, and copper are among the surfaces that the sealer adheres to.

One of the best things about this sealer is that it can be used in a number of situations (hot, cold, wet, dry, etc.). It can withstand extreme heat, gasoline, and oil.
ATP AT-205 Re-Seal Stops Leaks
The ATP prevents all leaks product is one that experts and automobile owners can brag about since it is successful in permanently stopping and closing leaks on leaks and latex.
It has a special formulation that will regenerate dry and worn-out seals, and it is a must-have for everybody because of its composition, which ensures that it has no detrimental impact on parts or interior bearings.

This sealer would efficiently block leakage in hydraulic systems, discrepancy systems, power steered systems, and powertrain systems.
Its versatility in terms of compatibility with synthesized and traditional oils, power steering fluids, gear oils, and other fluids make it a more dependable product.
Only one bottle of this sealer is needed to cover leaks up to six quarts in volume, and another unique characteristic of the APT stops all leaks sealer is that it does not disintegrate seals, bloat, or have a detrimental effect on petroleum refined products.
K&W Head Gasket and Block Repair
K&W has been delivering do-it-yourself leak remedies to car owners and mechanics since 1938. Its products have been shown to be cost-effective solutions to time and money in professional automobile repair and maintenance.
This block seal is made with nanotechnology and can handle blown-out gaskets in a variety of vehicles, including buses and trucks.
When used, it performs a variety of tasks. It may be used on engine parts, cylinder heads, cooling equipment, heating cores, and freeze plugs, among other things.
It may also be used with radiators. You apply this to the cracks in the same way you would any other pour-and-go combination.
Allow it to solidify and form a strong connection with the car component material, resulting in a lasting seal. This can alleviate your concerns about a blown head gasket.
The benefit of this material is that it has no effect on your car's internal network. This product is really effective, however, it contains a component that is active.
This might be dangerous to the user. As a result, always use prudence when using it.
You should also empty your cooling system and avoid combining it with antifreeze before applying it.

This sealant is suitable for a variety of vehicles, including buses and trucks. Four-cylinder engines may be covered with a single bottle.
For 8-cylinder engines, the dose may need to be doubled.
Because of the powerful chemical composition, DIYers should use it with caution.
K-Seal ST5501 Permanent Coolant Leak Repair
This is a shake, pour, and go sealer that will permanently cure leaks around the coolant.
It is not necessary to spend a lot of money to remedy a coolant leak because a better result can be reached simply by applying this sealer around the affected area.
This sealer has been experimentally shown to function in less time and to secure for a longer period of time than other comparable products.
This aspect has been confirmed to by countless customers across the globe using this sealer at one time or another.
It's simple to use because all consumers have to do is shake it well, pour it over the afflicted area, and wait for it to work.
This would assist every vehicle in performing at its best and would have no detrimental impact on your engine's output.
This sealant works in an astonishing way because, once applied, its active microfibers hunt for the leakage and build a mesh that seals it.

As long as the leak is detected in a timely manner, this sealer will successfully deal with any type of leak, and it is a popular and preferred sealer among most technicians and car owners due to its simple design and ease of use.
Bar's Leaks 1194 Grey Radiator Stop Leak
This sealer has a twofold sealing power that allows you to stop a leak without having to go to the store.
By doing so, you will not only save money about something that you can do alone, but you will also avoid the worry and time of visiting to a repair shop.
One should not have to spend a lot of money to fix a leaky radiator since the Bar leaking stop leak is very inexpensive and will completely stop the leakage in your radiator.
Leaks can be created by a variety of factors, including age and wear, but irrespective of the reason, this is the best approach for dealing with leaks.
However, you don't need any particular skills or experience to accomplish this sealing yourself with the Bar's leaks stop leaks solution since it comes with a how-to video that walks you through the procedure of applying this sealer.
Regardless of the tint or kind of fluid used in your vehicle, this sealant will locate the leak and seal it off, ensuring that the problem does not recur.
Its sealing effect lasts for a long time, and a single bottle of this sealant may treat up to three gallons.
Permatex Copper Spray-A-Gasket Adhesive Sealant
Because of the copper metal utilized in its composition, the sealer not only closes gaps in the coolant system, but it also reduces gasket burnout, absorbs heat, and enhances heat transmission.
It also features a quick-drying composition that seals fractures immediately after application. The copper composition also allows for a wide temperature range of -50 to 500 degrees Fahrenheit.
As a result, you may use the sealer on both cold and hot engines with confidence.
It also features a spray-on style that makes it easy to use and sets it apart from the other items on the list.
Conclusion
You can repair cracks and gaps in the car component on your own with the finest head gasket sealant. If you're doing it yourself, it's critical to follow the instructions on the package.
You can also count on an efficient solution to your gasket problem when you have access to the best goods on the market.
Because of its compliance with a variety of substrates, the BlueDevil Head Gasket Sealer is our first option. Gaskets are made from a variety of materials, as you discovered in a previous lesson.
This high-quality product is suitable for alloys, aluminum, cast iron, plastic, steel, and a variety of other materials. It's also professional-grade while remaining cheap.
Replacing or rebuilding your vehicle's head gasket at a mechanic's shop can be expensive and time-consuming.
This is why we propose ten head gasket sealers that you can use without the help of a professional.
It is strongly advised that you purchase from suppliers who offer money-back guarantees in the event that the product you select fails.
They are worth checking out because of their inexpensive pricing, particularly when they come with warranties.
FAQ
Does head gasket sealer work?
You may completely prevent the leak and avoid your vehicle from misfiring by using a high-grade sealant. Using a sealant, as opposed to replacing the head gasket entirely, is a simple procedure. Simply pour the sealant into the radiator cap, and it will run throughout the system, detecting leaks. The procedure is quick, and the leaks will be fixed in less than an hour.
Is head gasket sealer safe?
Your car engine is safe if you use the proper type of head gasket sealer and apply it correctly. The sealer's granules are so tiny that they don't affect the engine's parts when fixing head gasket leaks.
If you use the proper sealer in the right spot and apply it correctly, the joint should last until it needs to be disassembled for a reason other than leaking.
How long does it head gasket sealer last?
If the leak is minor to moderate, the engine can be run for 10,000 to 50,000 miles without further problems. If the leakage is more serious, or on the verge of getting more serious, the repair may take less time. Experts always recommend acting on the first sign or symptom of a cooling system malfunction.