Please note that this post may contain affiliate links and any sales made through such links will reward me a small commission – at no extra cost for you..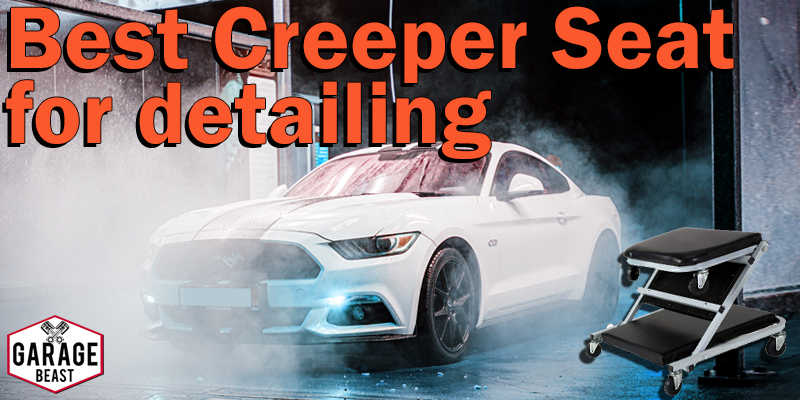 Are you a Car Lover or a Car Detailer? Do you want your car to shine like a mirror with Less Stress? we are here to provide you with some of the best creeper seats available in the market to ease the stress in your life.
making your car shine like a brand new one is a responsibility that comes with driving your car, most of the time when you wash your car and want to detail at some parts such as door or fenders it very difficult to bend and do that.
Doing the clay bar or applying wax on your car or detailing your car, then having a creeper seat can make your life a lot easier so today we are going to see the Best Creeper seat for detailing.
What is a creeper seat?
A Creeper seat is basically a Chair with or without wheels designed specifically for car enthusiast wanting to work on their car it comes in handy when working on your car, they come in 3 different types.
Types of Creeper Seat
Foldable Creeper Seats
Chair like Creeper seat
Stool Like Creeper seat
Why do you need one?
In case you are not familiar Creeper Seats you may need one to ease yourself when detailing your car as you wont have to stand for a longer period of time and can easily clean your car while sitting at the comfort of your chair and these chair do have wheels with them so you can easily move around you car.
| Product | Wheels / Foldable | Price |
| --- | --- | --- |
| Whiteside Manufacturing Professional HD Mechanic's Seat | Wheels | Check Price |
| Sunex 8514 Tractor Seat | Wheels | Check Price |
| Torin Big Red 6350 Pneumatic Creeper Stool | Wheels | Check Price |
| WEN 73012 Rolling Mechanics Stool | Wheels | Check Price |
| ATD 81010 Creeper Seat | Wheels | Check Price |
| Pro-Lift Grey 36" Z-Creeper Seat | Foldable | Check Price |
| Pro-Lift Grey Creeper Seat and Stool Combo | Wheels | Check Price |
| Omega Black 40" Foldable Z Creeper | Foldable | Check Price |
| Torin Big Red 6300 Creeper Seat | Wheels | Check Price |
| The WEN 73011 Rolling Mechanic's Seat | Wheels | Check Price |
Today we are reviewing some of the Best Creeper seat for detailing now before going on we would like to tell you that this review is based on the different creeper seats that are not advertised for detailing but with seeing the aspects and ease of detailing we have selected some seats.
This Creeper seat is manufactured TORIN which is a reputable brand when it comes to the creeper seat market. These creeper seats manufactured by them comes at an affordable price.
You have easy maneuverability as this Creeper seat comes with 4 heavy-duty caster wheels as they come with many other Creeper seats. This seat has an all steel construction which means that this seat is pretty a durable Creeper and you can trust this seat while detailing your car.
This seat has a thick padded seat so you can move around your car comfortably despite praising all the things it's missing one thing is back support if it would have come with back support it could have been on top in my list.
It also comes with height adjustment so you can adjust the height from 16 to 21 inches. On the lower side, it also comes with a tool tray so while detailing your car you can easily keep the wax, polishes or spray on them and move around your car with just one hand away from your special Wax.
Lightweight
One key feature despite all the mentioned above or below is that this creeper seat by TORIN is a Lightweight seat with a weight of around 250 LBS so you can easily move around your car while detailing, but there is
one problem with it having lightweight there has been a problem of height adjustment when it comes to a heavyweight person it can't retain its height properly, so I would personally recommend it to you only if you are a lightweight person.
This is a Creeper Tractor Seat manufactured by Sunex and as the name says this seat is basically made to look like a tractor seat and function more than a tractor seat, these seats are usually popular among car mechanics and detailers due to its design.
This Creeper seat comes with 17″ wheels to move you around your car without any hassle and make sure you don't get stuck on other stuff while detailing your car
also comes with a tray beneath it so you can keep your wax, polish, brushes and you detailing stuff beneath you while you will be making your baby shine like a mirror.
This seat seems to be a comfortable one and if you see the reviews you may see that most of the users will define it a Comfortable chair to chose.
Height adjustment
This seat main attraction is the height adjustment that comes with it you can adjust the height of it according to your use it can go as low as 18″ to 22″ max, which I believe is a decent area and you can access most of the car with it.
This is a simple yet effective creeper seat from Whiteside Manufacturing and is advertised as a Large heavy-duty Shop seat. Which it is when we see these seats. now by seeing you can see that this is a fixed seat with no adjustment so the overall length of the chair is 19 Inches.
The weight of this chair is around 3.5Lbs which is quite a decent weight as you will be able to move easily around your car. Furthermore, this seat comes Oil resistant roller wheels so you won't have to worry about any oil spills in your garage. This seat comes in one color and that's All black.
Magnetic Strip
This seat also comes with a magnetic strip of 15″ X 15″ below the seat where you can keep any of your tools while detailing your car or working on your car.
The magnetic strip comes in handy as it would let any metal small parts stick to it such as screws from the interior or exterior metal emblems so don't have to worry about placing or losing them.
This mechanics stool is offered by WEN, so if you work on your car most of the time you need something to sit on comfortably. This rolling stool offers it comes with thick padded foam so you can easily sit and work on your can, but there is one thing I most of the time miss about these stools is their back support.
This seat comes with Five Caster wheels so you can easily move your stool around your car and detail it to give it the perfect shine, This seat has a good height adjustment so you can change the height from 15 to 20 inches which is a decent height.
This seat also comes with an all-steel frame construction which means that this seat can as per claimed by WEN, can hold upto 300 LBS of evenly distributed weight.
But, with this claim, we have seen some issues by some customers with the seats mainly with the welding beneath the seats of some customer had broken nothing is clear if the weight was uneven of even but still this is an issue to be corrected.
while reviewing some customers we came to know that most customers whose welding broke off were overweight so if you are a smart person then we would recommend it to you.
Other issues we came to know were some scratch marks but these small scratches were during delivery.
Overall if you are a average weight person this seat is for you .
At no 5 we have this multipurpose creeper seat so if you want to save money and buy a creeper seat that can work under your car too then this Pro lift seat can be the best creeper seat for detailing or any other under car work.
This seat is made of a heavy steel frame and has a capacity of 300 LBS. It has a total of 6 caster wheels. so you can easily move under your car or when working or detailing from outside you can easily move around with converting what is called Z shape.
This seat has thicker foam padding on your headrest and foam padding all over the creeper seat, so you can easily move around your car with comfort. in the image, you can see that this same thick foam padding comes up when you use it as a seat.
The Disadvantage we can see as using when comparing to other seats is that this seat has foam underneath when converted to sitting position AKA " Z Shape ". You will face difficulty holding any items underneath as other seats have tray this does not have it neither the foam can't hold some items and while moving it may fall.
This is something you may face while saving some money but if this is not your problem then go ahead and buy it and personally for me this can be the Best creeper seat for detailing.
2 in 1
This seat as you can see in images can perform as a 2 in 1 seat you can either chose it as a mechanics creeper or you can use this as mechanics creeper seat. This seat is called by their manufacturer " Z Creeper seat " because of the shape it makes when converted into a seat.
If you are thinking about the conversion it is not a difficult task within a minute in converts from creeper to a seat the only thing you need to assemble is the caster wheels which are much easy to install. the only thing you won't be able to do is height adjustment.
Some issues reported by customers were that this seat has some quality control issues, the frame had some weak points in it. other than that this seat is a great addition to your home garage.
This creeper seat is manufactured by the ATD. If you want to properly detail your car you know you have to spend a lot of time on creeper seats, this particular creeper seat is a good choice as this seat has a round padded seat which is comfortable enough.
This seat comes with caster wheels so you can easily move it around your car. These caster wheels come with a ball bearing design so it may last longer. As per claimed by ATD each of these wheels is rated at 150 LBS each which means that they can bear stress but I do have concerns that it won't be easy to move around if this much weight is on it or I don't think the bearings are going to last longer.
This seat comes with an adjustable height from 16 to 21 Inches. It only weighs 5 pounds which is lightweight. This seat also comes with a tray beneath with partition so when you keep you detailing polish or liquid it wont roam all around the tray. As per owners, the seat quality seems to be at least above average.
we have seen that there are complaints of caster wheels failing, but the good news with that is that you can easily replace them when with local Caster wheels available at hardware stores.
This seat is also offered by Pro-Lift, it's different from all of the above mentioned seats. This seat comes with a 2 in 1 combination means that it can be used a stool and creeper seat too.
Unlike previous pro-Lift seat, it is not a foldable one but you can see how PRO-LIFT are into providing more value and features in the same price of competitors.
This seat comes with caster wheels so for sure you can easily detail your car and move around it. This seat unlike others did not come with 4 but 5 caster wheels.
This seat also has a tray beneath the foam padding so you can easily keep your shampoo, wax, polishes, and move around your car easily. The foam padding is on the reasonable area of the seat. If you go to the stool side there is nothing you can keep under it and that is Diamond black steel design..
This Seat weighs around 17 Pounds. The only downside that comes with this 2 in 1 option is the weight and I think with this upside of 2 in 1 seat I believe the weight is something that can be adjusted with.
The weight capacity it can handle is 300 Pounds which we believe comes into heavy-duty seat category.
This is another folding mechanics creeper which is also said to be Z Creeper seat because of the Style it comes to when folded. This product comes with more than 200 Reviews.
The Benefit of a Z style creeper seat for my detailing guys is that they can use this seat for multi-purpose it can either be used as a seat when detailing your car and that too with wheels so you can easily move around your car and detail it.
When you want to work under your car you can transform this seat into a creeper seat. The best thing about this Z creeper seat is that you don't need to convert this seat with some tools. You can easily convert it into both positions in seconds.
This seat comes with a total of 6 3″ caster wheels, these caster wheels are made of polyurethane and guess what they are oil resistant so hopefully, you won't slip.
The Overall Structure of this creeper seat is made of steel. The weight it can handle is around 450 LBS. This seat comes with padding in both ant of the 2 positions, so it's a comfortable one too.
The seat does not come with tool tray like other but you will have to compromise one benefit over another, in this case, it is the fold-ability, but there is something still you can use when it is in a seat position you can keep any unrolling item such as a box or steel tin polish so it won't slip easily so you there is space not much but there is. Else than that it is a bit expensive.
This is a creeper seat by a TORIN, this seat when it comes the design is different from all the seats mentioned above. As seeing the design we can see that this seat comes with Small 2″ caster wheels. so you can easily move around your car easily while detailing your vehicle.
This seat is made of all-steel construction, to improve the stability the sitting area is wide enough to make this seat stable enough. The seat also has padded cushioning to make you comfortable.
By seeing the design you may see that this seat has only 1 support at each end and there is no support at other but wait before judging that this seat is made of heavy duty steel frame and this seat can also handle 250 LBS so you can see that this seat can handle weight easily.
This seat does not have adjustable height, the height is around 14.5″ high. so with non adjustable seat you dont have to worry about the pneumatic lift issues.
This seat also comes with a tray beneath so when you are detailing your car so you can keep your polishes and wax in that tray. There are some issues that should be discussed such as issues with the plastic tray beneath, some paint shipping issues.
Another thing makes sure when you sit on it check your position try to be in the middle of the seat or there can be a chance of dis-balancing.